1st Annual 2017 Pro Competition
 

Camp in Santa Barbara presented By Pacific Rink

DAY 1

Camp kicked off with two evaluation skates after check-in and orientation at Sierra Madre Village. Coach Armstrong and Coach Heinze placed a large emphasis on power skating, passing, and shooting, while our goaltenders received training from Goalie Coach Brian Simas. After completing the day 1 evaluation skate, ice breakers, and field games, our camp counselors introduced proper post skate cool down stretches to fully recover for tomorrows schedule. 




DAY 2


Day 2 kicked off with a plyometric, quick feet, balance, and relay race competition style dryland. On the ice, Coach Armstrong and Heinze designed a challenging passing, skating, and shooting skill development session with a competition based drill-set. Our campers were able to replenish with water, PowerAde, and a healthy lunch, before continuing the day with more off-ice, skill development, and 3v3 games! Both groups were put through the ringer with 1 dryland session, 1 skill development and 3v3 game, and lastly, Ultimate Frisbee!





DAY 3


Is there a better way to start off the day than with 3-on-3 hockey? Coach Derek Armstrong and Coach Cody von Rueden woke the kids up with 2 competitive small ice 3-on-3 hockey focusing on small area plays, quick decision making, and man-on-man coverage. Both teams worked extremely hard, and competed at a high intensity level before soccer on the large field and pizza. Our campers took their ice-skills to the sand at Goleta Beach for an hour dryland session, relay races, and free beach time. Our dryland curriculum focused on lower and upper body weight exercises, conditioning, and interval training. There isn't another camp out there that can implement hockey specific training on the ice, field, and the beach!





DAY 4


Coach Armstrong and Coach Heinze, two NHL veteran sharp shooters, went over the Art of of scoring. Wrist shots, snap shots, backhands, and slap shots were the main focus, as well as 1-on-1 battles, drop passing, tight area shooting and passing, as well as rebound scoring. Goalies worked with Brian Simas on rebound control, tracking down the shooter, and odd-man-rushes. Dryland with coach Cody von Rueden included 4 hockey specific stations: Tennis ball quick-feet reaction drills, balance board push ups, sit ups, squat jumps, and skating jumps, as well as quick feet cone drills and hurdle hops. In between and after hockey, the campers took the field for kick ball games!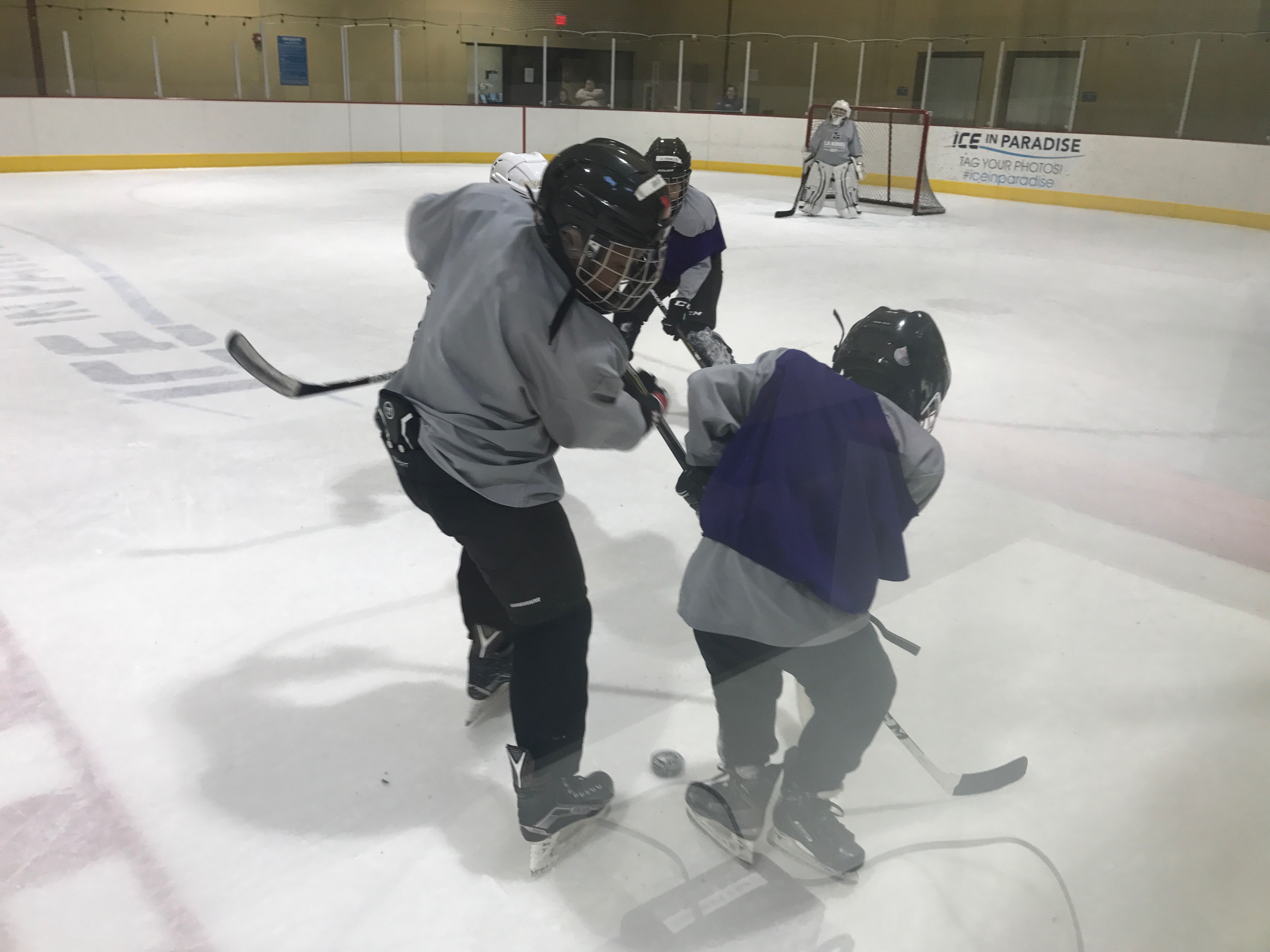 DAY 5

Last day of camp, parents were reunited with their campers. Campers were able to showcase their skills in the final scrimmages of the camp. First, the younger group took to the ice, with the older group coming up next. In the end, Team Skillz Squad won the younger bracket and Team Micky D's won the older bracket. While the wins seemed like the most important thing to these campers, it was the training, fun, and the friendships they developed that they will remember forever.